Asisat Oshoala is a Nigerian professional footballer who currently plays for Barcelona's women's team. Born on October 9, 1994, in Ikorodu, Lagos State, Nigeria, Oshoala has made a name for herself in the world of football.
Known for her incredible speed and agility on the field, Oshoala has been a key player for Barcelona since joining the club in 2019. She has been instrumental in the team's success, helping them win numerous titles.
As for the Ballon d'Or, Oshoala has not won the prestigious award yet. However, she has been nominated for the FIFA Women's World Player of the Year award multiple times, showcasing her talent and skill.
As for the best female player in Barcelona, many would argue that Oshoala holds that title. Her contributions to the team have been invaluable, and she continues to impress both fans and critics alike.
Oshoala has scored an impressive number of goals for Barca. As of now, she has scored more than 50 goals for the team, a remarkable achievement.
Where is Asisat Oshoala from in Nigeria? As for her tribe, Oshoala is Yoruba. She is proud of her Nigerian heritage and often represents her country on the international stage.
When it comes to the highest-paid female footballers in the world, Oshoala is among the top earners. Her talent and marketability have led to numerous endorsement deals and sponsorships.
Currently, there are no reports of any injuries or health issues with Asisat Oshoala. She is in good form and continues to excel on the field.
Oshoala is currently in Barcelona, where she is focused on her football career and making a positive impact both on and off the field.
See Also: African Women's Footballer Of The Year Winners Till Date
Asisat Oshoala Biography
How old is Asisat Oshoala? Asisat Lamina Oshoala was born into a Muslim family on the 9th of October, 1994 in the Ikorodu suburb of Lagos State. Against her parents' wishes, she started her basic football in Mushin.
Today, her parents are no doubt proud as she is now an accomplished football star.
Her stepmother died in 2021 which Oshoala confirmed on her Instagram Story when she wrote: "Had two mothers, now I'm left with just one."
Education
Asisat had her primary school education at Air Force Primary School in Victoria Island before she moved to Aunty Ayo International School in Ikoyi for her secondary school education, and graduated in 2009.
But right after her Secondary school education, she started her career at Nigerian Lower Division side FC Robo till 2013 before moving to Rivers Angels.
Football Career
It was at Rivers Angels that Asisat broke into the limelight when she represented Nigeria at the 2014 FIFA U-20 Women's World Cup in Canada where they finished the tournament as runner-up. She emerged as the top scorer with seven goals and was named the Player of the Tournament.
Her blistering outing in Canada and Namibia didn't go unnoticed as she was called up to the Super Falcons squad by a former team coach, Edwin Okon for the FIFA Women's World Cup in Canada as well.
Asisat had a remarkable outing for the Nigerian Women National Team during that World Cup.
But unfortunately for the Super Falcons, they couldn't make it beyond the first round.
Oshoala joined the Liverpool Ladies on January 23 2015. The move to Liverpool made Asisat become the first African Female Footballer to play in the Women's Super League.
Oshoala's impressive first season saw her win the BBC Women's Footballer of the Year award in 2015.
Arsenal activated Asisat's release clause at Liverpool in 2016, and she became a player for the female side of the North London club.
A year later, Chinese club Dalian Quanjian F.C. officially signed Oshoala from Arsenal Ladies and during her short spell in China she was the top scorer in the 2017 Superleague.
And in 2019, after a wonderful spell in China, Spanish club FC Barcelona Femení signed Oshoala on a loan deal until the end of the season.
She scored Barcelona's only goal in a 4–1 defeat to Lyon in 2019, becoming both the first-ever Barcelona Femení player and African player to ever score in a UEFA Women's Champions League Final. She was also the first Nigerian to score in any UEFA Champions League final, men's or women's.
The Camp Nou side announced later in 2019 that Oshoala has signed the dotted lines for full transfer to the club and extension until 2022.
She was the captain of the Super Falcons after Desire Oparanozie was stripped of the captaincy when she fell out with some of the bigwigs in Nigerian Football. Only recently, Asisat too was relieved of her role as captain of the Nigeria side.
Asisat Oshoala Daughter
The former African Footballer of the Year was a victim of child pregnancy before taking football as a career.
When the 24-year-old revealed her first daughter to the world on social media, quite a number of her fans were shocked as Oshola's daughter (name unknown) is a full-grown woman. From the look of her daughter, she should be about the age of 10.
Asisat Oshoala Husband
Who is Asisat Oshoala husband? Oshoala is yet to reveal anything that has to do with her husband – or even the man who impregnated her in her daughter's case. No one knows for sure of any marriage between Asisat Oshoala and any husband.
Everything concerning her relationship online is just mere rumours and pranks.
So is Asisat Oshoala married? Time will tell.
Asisat Oshoala Net Worth 2023
Oshoala has an estimated Net Worth of $1-5 Million as of today, that's according to Various Online resources like Wikipedia, Forbes, and IMDb.
Previously, Oshoala's net worth was put at $100,000 -1 Million.
She earned all that money playing professional football for Nigeria's Super Falcon and for her current club FC Barcelona Femení.
Asisat Oshoala's Salary at FC Barcelona
According to reports, Asisat Oshoala is rumoured to earn approximately NGN ₦ 10,322,181.45 (£10,500) per week, which translates to NGN ₦ 39,319,496.00 (£40,000) monthly. These figures indicate that Oshoala is one of the highest-paid female footballers in the world.
It is important to note that these numbers are speculative and may not be the exact figures. Football clubs often keep the salaries of their players confidential, and the actual details may only be known by the player and the club.
Asisat Oshoala House And Cars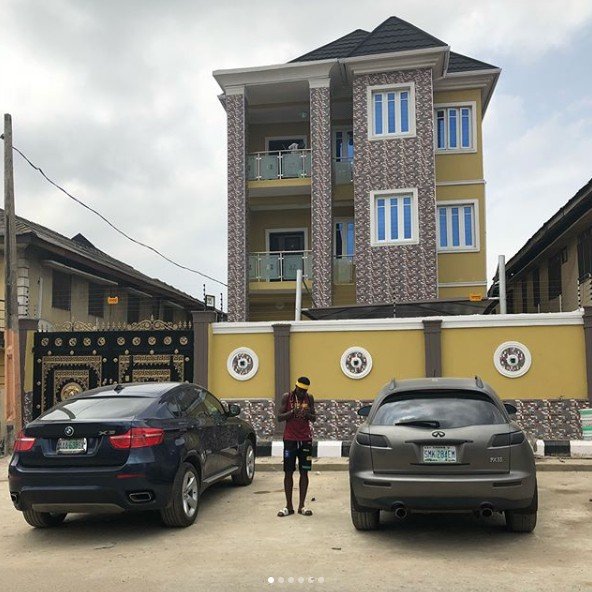 Asisat Oshoala showed off on her social media page her new house which she gifted her parents.
Putting up a photo of hers posing outside of the new multi-million Naira house, she also posed with her cars, with the caption: "Small girl Big God….Alhamdulillah, parents first".
Asisat Oshoala Foundation
Oshoala set up the Asisat Oshoala Foundation with the support of the Lagos state government to help youngsters seek after their football dream and give them the necessary chance she never had.
Wrap Up
To conclude this Asisat Oshoala biography, it may interest you to know that in 2019, she and Barcelona signed a Memorandum of Understanding with the official licensee of Barça's Academy in Lagos, Nigeria.
She also facilitated the Football4girls competition in Lagos in December with the intention of bringing aspiring female players to the limelight.
This article was updated 2 months ago