Taiwo Awoniyi Biography, net worth, salary, wife, house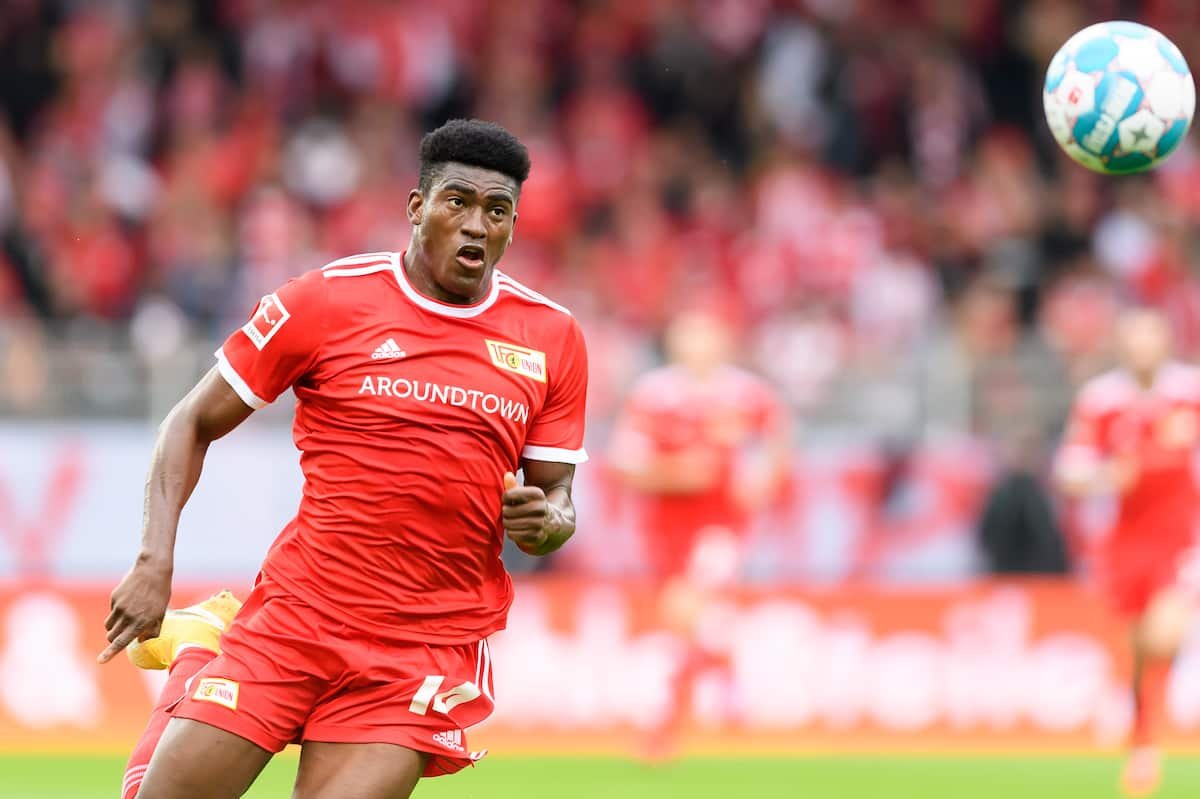 This Taiwo Awoniyi biography will look into the life of the player and his steady ascension to the top.
Taiwo Michael Awoniyi is a Nigerian footballer who plays for Union Berlin in Germany.
The footballer has continued to develop his career over the years and has reaped the success that has come with it.
While he is undoubtedly not a household name in Europe, the Nigerian international clearly has all the potential to become a recognizable figure.
With time, this is expected to become much more obvious.
Taiwo Awoniyi Biography: Family and Career
Taiwo was born a twin to the family of Mr. and Mrs. Sunday Awoniyi on the 12th of August 1997 in Ilorin Kwara State, Nigeria. His twin sister is Kehinde.
Taiwo's father, Solomon Awoniyi, was a police officer in Nigeria when Taiwo was a boy.
At that time, he was so interested in football that he sometimes made everyone worried about his whereabouts as he disappeared to play football.
His father sometimes had to beat him to stop him from playing football, but they soon realized that Taiwo had a passion for the game.
Mr. Solomon Awoniyi didn't have much as his salary was not so big, but he tried to provide him with his football training boots.
Taiwo will have to either patch it up or find an alternative by looking for a boot in a nearby refuse bin when the boots go bad.
Today the parents are very proud of Taiwo's football career.
Taiwo has a great relationship with his twin sister Kehinde who is into the fashion business with the footballer posting several many pictures of them together on social media.
Every year on their birthday, the footballer always posts their photos with a caption of prayer.
Taiwo started his football career with the Nigeria age-grade team, and in 2010 he performed remarkably in the Coca-Cola football competition held in London, winning the most valuable player of the match.
Seyi Olofijana, a Nigerian football manager and coach, was impressed with Taiwo's performance in the competition held in London and convinced him to join the imperial Soccer Academy.
Taiwo started playing football in the academy, thereby improving his skills and progressing his football career.
In August 2015, Taiwo signed a deal with the Premier League club Liverpool for 400,000 pounds, and the club immediately loaned him to FSV Frankfurt, a German club, to improve his play.
Taiwo was named a substitute with FSV Frankfurt in the German Cup football match, where they played against Hertha Berlin.
He was named a substitute for six more games before he finally got his shot and played with the club on the 19th of February 2016 in a match against FC St Pauli.
At the end of the season, Frankfurt was relegated, and Taiwo returned to Liverpool.
In August 2015, he joined the Dutch club NEC on loan for a season, and in September, he played with the club as a replacement for Michael Heinloth in a match against PSV Eindhoven, where his team lost.
At the end of the season, NEC was relegated, and in July 2017, he left the team to join Royal Excel Mouscron of Belgium on loan for a season.
On the 12th of August, he played with the club for the first time and scored in a match against KSC Lokeren.
Taiwo signed a new deal with Liverpool in July 2018, and in the same month, he was loaned to Gent for a season.
In January 2019, the loan with Gent was brought to an end, and Taiwo was loaned back to Mouscron.
In April, Taiwo had a challenge getting his UK work permit, and in August, he was loaned to Mainz 05 for a season.
In June 2020, he played with Mainz in a match against FC Augsburg and sustained a severe concussion which led to him being hospitalized.
In September 2020, he was loaned to Union Berlin for one year, and In July 2021, he permanently rejoined Union Berlin for a 6.5 million pounds fee.
Taiwo started his international career in the Nigeria under-17 FIFA World Cup in 2013, where he scored four goals.
In 2015 he played in the Under-20 Nigerian team in the FIFA World Cup.
He was part of the Nigeria Under-20 team that won the 2015 African championship in Senegal.
In his debut for the Nigeria under-23 team in 2015, all African games qualifiers match, he scored two goals.
Taiwo was selected to join the 35-man squad to play in the 2016 summer Olympics and was also selected in 2021 to play with their Nigeria team in the 2022 FIFA World Cup qualifiers match.
He played with the Nigerian team in the qualifiers match against the Central African Republic, where the Nigerians team lost.
Wife and Child
Taiwo is a happily married man with a son. is a happily married man with a son.
He got married to his wife Taiye Jesudun on the 15th of June 2018 in a traditional wedding ceremony in Kabba, and a white wedding was held in Ilorin on the 16th of June.
The couple had their son Emmanuel in 2020.
The footballer uses every opportunity he gets to show off his family on social media.
He doesn't hesitate to drop a picture of him and his wife on social media with a caption of prayer on his wedding anniversary.
Houses and Cars
Taiwo Awoniyi does not post pictures about the kind of life he lives, and as such, the footballer has never posted pictures of himself in his cars or the numerous cars he has.
The footballer has once posted himself and his family in a house, but we do not know if the house is his or how many he has in his possession.
Salary, Market Value, and Net Worth
Taiwo Awoniyi earns a yearly salary of 483,000 Euros with Union Berlin and is estimated to have a net worth of 3 million dollars.
As an upcoming player, Taiwo commands quite a fair share of market value and is estimated to have a selling price of 8 million euros.