Peter Rufai Football Academy Staruf Registration, Fees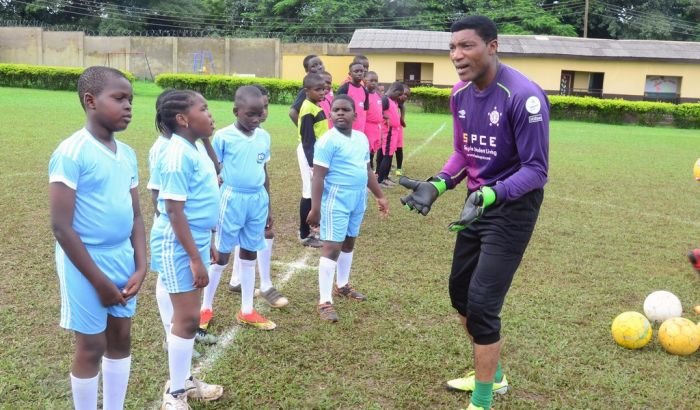 Where is Peter Rufai Football Academy located? Who owns Staruf Football Academy? Does Staruf Football Academy belong to Rufai? Where is Milo Football Academy located? Is there any football academy in Lagos? Where is Arsenal academy in Nigeria? Where is Ighalo Football Academy located? Where is Papilo Football Academy located? Which is the best football academy in Lagos? How much does it cost to join a football academy in Nigeria? Which African country has the best football academy? Where is Pepsi Academy located? What is the name of the best football academy in Nigeria? Do academy footballers get paid? How can I join Barcelona academy in Lagos? Which country has the best football academy?
See Also: Complete List of Football Academies In Lagos
Staruf Football Academy
There are loads of football academies in Nigeria no doubt but only a few of them have what it takes to groom future stars for the country.
Nigerians are passionate about football and many parents want their children to develop their careers in football, but what seems to be lacking is a well-organised football academy.
This is where former Super Eagles Goalkeeper Peter Rufai comes in with his Staruf Football Academy.
Staruf Football Club Limited was incorporated in Lagos, Nigeria with Registration Number 1064534. It was registered on 12 Sep 2012. The company's registered office address is NO.18 Ayindegiwamasha, Surulere, Lagos.
Peter Rufai Football Academy provides an avenue where talented young lads can train and learn the rudiment of the game at a tender age.
Although football academies are founded in Lagos State almost every day, only a few of them can stand the test of time.
Most of the academies lack basic sports facilities and a good football pitch where the players can train and display their talents.
But Staruf Football Academy is with a difference based on the testimonies of many young players who have registered with the academy.
Because the academy grooms aspiring youths to become world stars, many young players have left their former clubs to register with Staruf Football academy.
The academy players have learnt a lot from the institution. They are very comfortable as the academy has a big bus that conveys the students to match venues.
They have lots of jerseys for training sessions and lack almost nothing because the management is up and doing.
Over 200 players have registered with the academy. And it is believed that young lads who want to make a career in football will get it from this academy with the wealth of experience in Rufai when you consider his playing days. And the players so far are learning fast on the game.
They take part in competitions like Oba's Cup, Boska Cup and other high profile competitions that can bring the players to the limelight.
Parents and guardians of current players at the academy believe in the youth programme. The management itself has vowed to continue to give the players the best throughout their stay in the school.
They have even gone as far as playing a friendly match with Golden Eaglets and Flying Eagles for exposure sake so that by the time they start their professional career, it will be easy for them.
The Lagos State Government is also known for its support of this academy.
Peter Rufai Football Academy has also been established in Belgium and Spain, and some other parts of African countries.
There is the opportunity for good players to be sponsored to Europe for trials and to participate in the international championship in Europe as the players equally need international exposure in order to compete with their counterparts in the world.
Coach of Staruf Football Academy, Saheed Adeyinka, once attested to the fact that there is a lot of improvement in the academy.
Peter Rufai Football Academy Registration & Fees
Boys and girls who wish to apply and be considered for membership of the Staruf Football Academy should introduce themselves to the coaches at any of the academy's training centers on any Saturday morning.
Coaches will assess applicants on the evidence of special talent and attributes such as balance and speed.
Successful applicants will be given the academy's application & registration form for completion.
The completed Application & Registration form should be submitted along with:
The original and photocopy of the student's birth certificate
Three passport photographs of the student + one passport photograph of either parent
Copies of the students school results
Students who have completed their secondary education need to bring photocopies of their SSCE/NECO results [confirming 5 credits, including English and Mathematics]
Photocopies of the students medical history/reports
Eligible students are to attend with their parents upon registration [compulsory]
All payments are to be made to the bank, please request for bank details
Once an application has been accepted, the registration requirements are:
Age 5 – 16 Years
Registration fees –
Quarterly fees –
Training uniform –
Identity card –
Training bag –
Maintenance fee –
I have deliberately not stated the fees in the above list because they are subject to change. I will advice you visit the academy to learn what their current fees are.
And please note that the joining age is 5 – 16 and that the Peter Rufai Football Academy does not provide academic education or accommodation. Each student must have their own football boots/training canvas, a football, and shin-guards.