Nigerian Past And Current Goalkeepers Names
Who are Nigerian past and current goalkeepers? Who is the best keeper in Nigeria now? Who is the best goalkeeper in Nigeria 2021? Who is Nigeria's first goalkeeper? Where is Vincent Enyeama now? Who is the richest goalkeeper in Nigeria? Which club is Maduka Okoye playing for? How tall is Maduka? Is maduka Okoye related to Psquare? Which club is Francis Uzoho in? Who is the current Super Eagles goalkeeper's coach? Which club is Enyeama playing now? How old is Vincent? Where is Vincent Enyeama from in Nigeria? How old is Okoye Nigeria's goalkeeper? How much is Maduka Okoye's weekly salary? Which state is Nigeria goalkeeper Okoye from?
See Also: African National Football Team Coaches: All 54 Countries Listed
List Of Nigerian Goalkeepers
Maduka Okoye – 2019 – present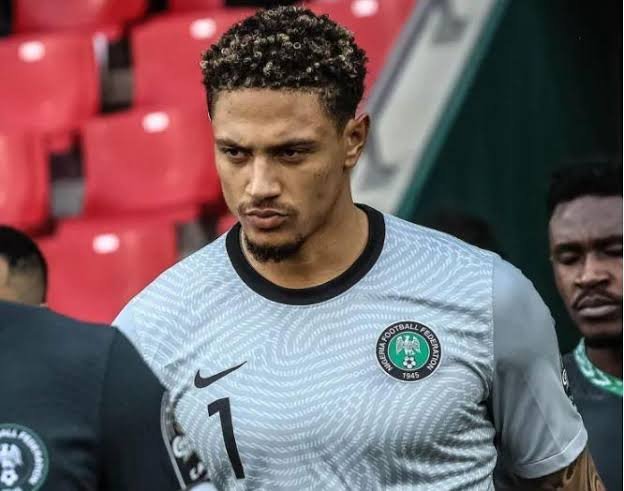 Okoye is one of the Nigerian goalkeepers in Europe that currently plays for Eredivisie side Sparta Rotterdam but is on loan from Premier League club Watford. The German-born is a new goalie to the national team and made his Super Eagles debut as a substitute in a friendly match against Brazil on the 13th of October 2019. That game ended 1–1. Okoye is one of the foreign-born Nigerian goalkeepers so far on this list of Nigerian past and current goalkeepers. He is also one of the richest goalkeepers in Nigeria, having signed a five-and-a-half-year deal with Watford in November 2021.
Francis Uzoho – 2017 – present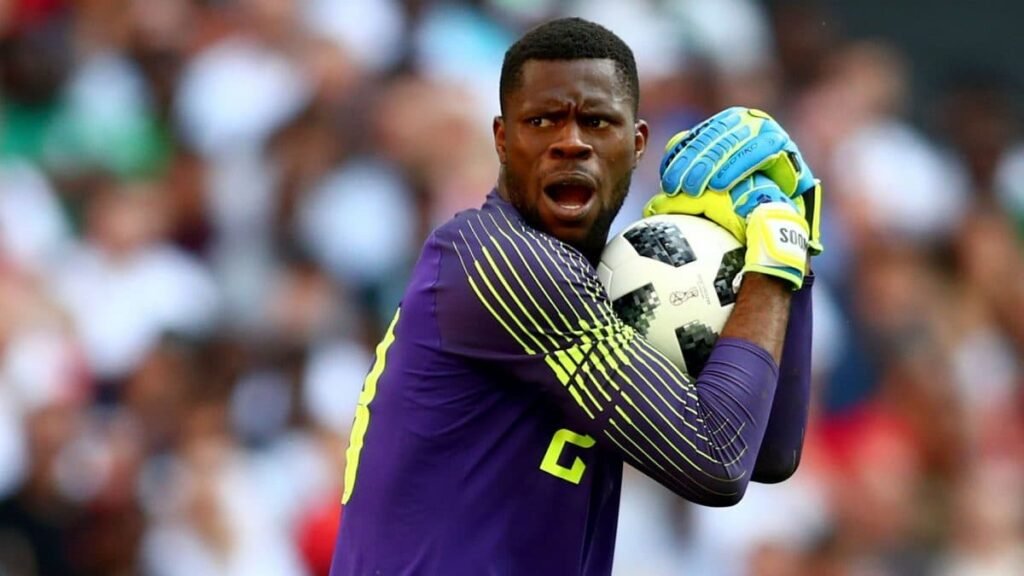 Francis plays in Spain for Omonia. He played as backup to Dele Alampasu at the 2013 FIFA U-17 World Cup at the tender age of 14. It was in October 2017 he got called up to the Super Eagles but had to wait till November 14th to make his full international debut when he replaced Daniel Akpeyi in a 4–2 friendly win against Argentina. He was part of the Nigeria squad that won 3rd place at the 2019 Africa Cup of Nations in Egypt.
Stanley Nwabili – 2021-2022
The 25-year-old has so far made only one cap for Nigeria in an international friendly against Mexico in the US. The highly-rated home-based goalkeeper, Nwabili shipped in four goals. The Super Eagles team B which he was a part of, got hammered 4-0 by the reigning CONCACAF Champions. That Nigerian side was made up of mostly players in the Nigeria Professional Football League. Nwabili currently plays for Nigerian club side, Lobi Stars.
Daniel Akpeyi – 2014 – present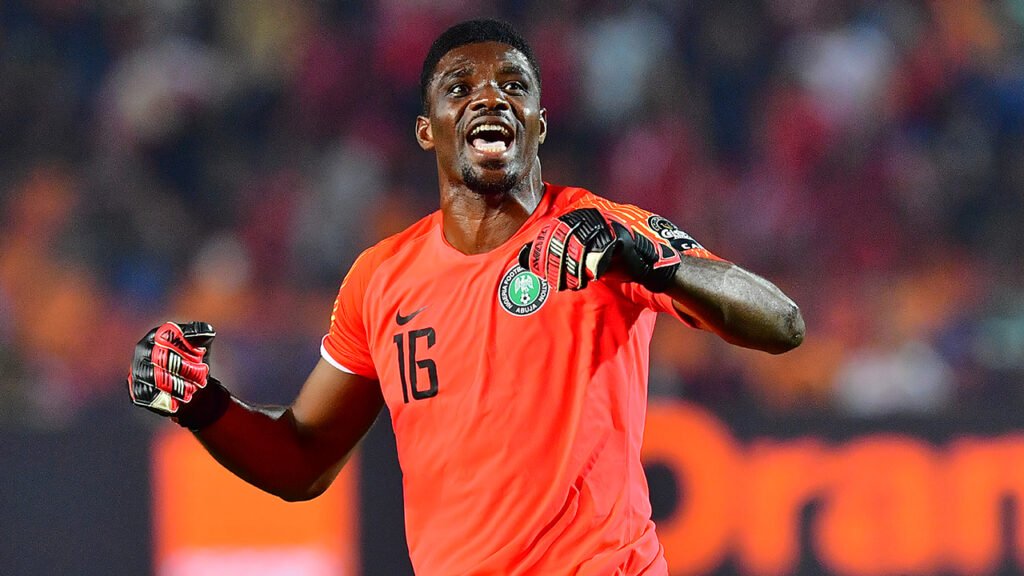 Akpeyi currently keeps in the South African Premier Soccer League for Kaizer Chiefs. He had been named in several provisional squads by Nigeria before finally getting his first full cap in 2015 in a friendly against South Africa. Even though he came in to replace an injured Vincent Enyeama, Akpeyi gave a Man of the Match performance by saving a penalty. He was also a member of the Super Eagles squad that got third place in the 2019 AFCON.
Ikechukwu Ezenwa – 2015 – present
Ezenwa is currently Katsina United F.C. goalkeeper. He featured in Nigeria's U-23 at the 2008 Summer Olympics before former Super Eagles coach, Sunday Oliseh called him up to the senior team in 2015. The Super Eagles coach that took over from Oliseh, Gernot Rohr, also made him Nigeria's first-choice goalkeeper following Carl Ikeme's illness and subsequent retirement from the national team.
Carl Ikeme – 2015 – 2017
The former Nigerian goalkeeper played for Wolverhampton Wanderers throughout his career, during which he was loaned to eight other clubs. Ikeme is another foreign-born Nigerian goalkeeper having been born and raised in England. He debuted for Nigeria in a 2017 AFCON qualification game against Tanzania on September 5th 2015. He managed to earn ten caps for Nigeria between 2015 and 2017 before being diagnosed with acute leukaemia in 2017. He was left with no choice after being in complete remission but to retire.
Dele Alampasu – 2016-2017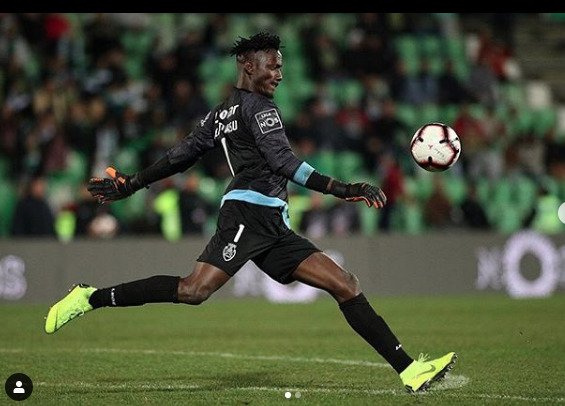 The goalie currently plies his trade for Ventspils in the Latvian Higher League. Alampasu won the Golden Glove award when he represented Nigeria's U17 at the 2013 FIFA U-17 World Cup. That tournament gave the Golden Eaglets their fourth U17 World Cup title. But at the senior level, Alampasu couldn't shine as he made just one appearance for the Super Eagles of Nigeria as a 70th-minute substitute against Togo. Since then he has not got a recall to stand between the sticks for the national team.
Vincent Enyeama – 2002 – 2015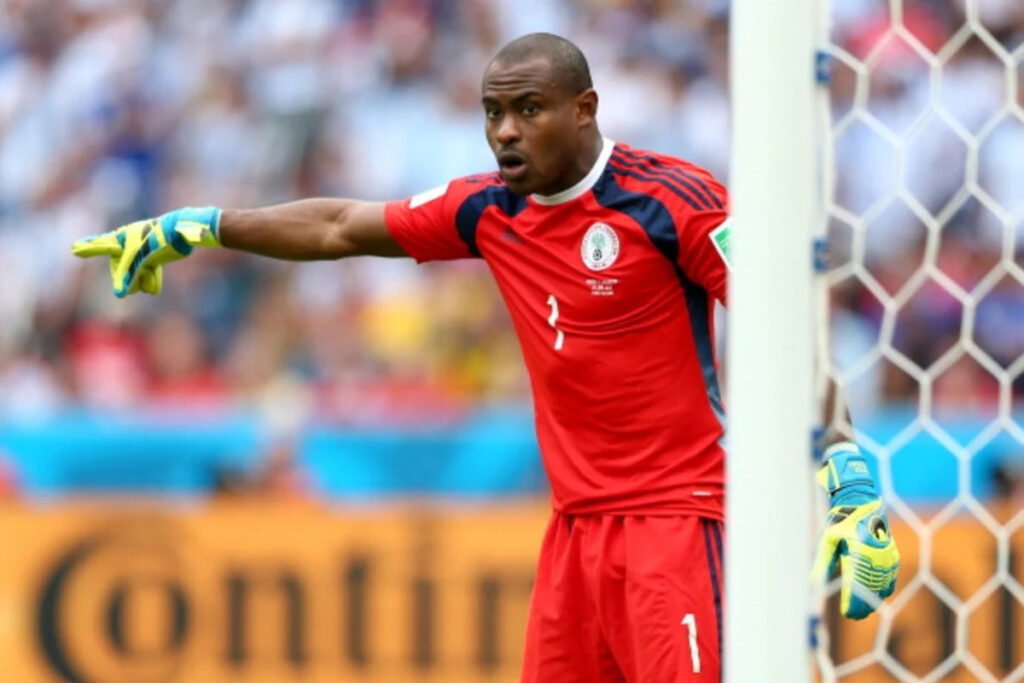 Enyeama is arguably one of the greatest African Goalkeepers of all time. In his two-decade career, Enyeama was in goal for Ibom Stars, Enyimba, Iwuanyanwu Nationale, Bnei Yehuda, Hapoel Tel Aviv, Lille and Maccabi Tel Aviv. He used to be Nigeria's most capped player with 101 caps until Ahmed Musa surpassed him. His debut for the Super Eagles came against Kenya in May 2002 and ever since the retirement of Ike Shorunmu, he became the first-choice goalkeeper for the national team until his retirement from international football on October 8th 2015.
Austin Ejide – 2001 – 2015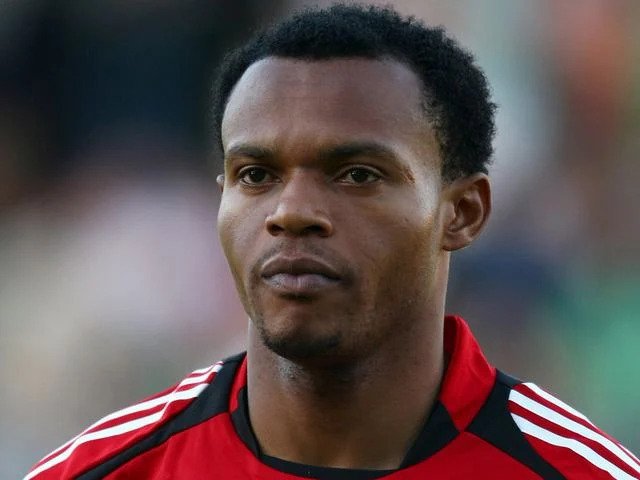 Eide is still a goalkeeper for Israeli club Sektzia Nes Tziona. He debuted for Nigeria against Namibia on 16 June 2001 and has since then been to five Africa Cup of Nations tournaments (2004, 2006, 2008, 2010 and 2013). In fact, the then Nigeria coach, Berti Vogts preferred Ejide as his first-choice goalkeeper ahead of Enyeama in all of the four matches the Super Eagles played in the Ghana 2008 AFCON.
Chigozie Agbim – 2012 – 2015
Agbim currently plays in the Nigerian Premier League for Delta Force F.C. The Kaduna born goalie made his international debut for the Super Eagles in a friendly against Angola in January 2012 and has made 14 appearances for Nigeria since then. He was included in Nigeria's squad for the 2014 FIFA World Cup.
Dele Aiyenugba – 2005 – 2012
Bamidele had been in Israel for 13 seasons and played with four teams before he staged a return to Nigeria to join Kwara United F.C. He earned 17 caps for the Super Eagles before leaving the national team.
Bassey Akpan – 2009 – 2010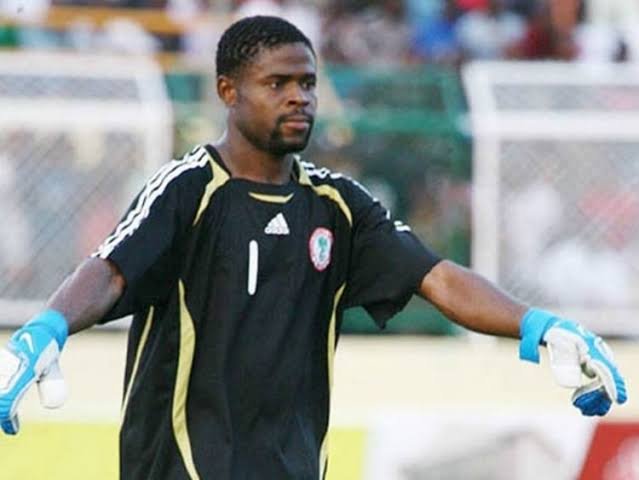 Akpan was one of two home-based players named in the Super Eagles' preliminary squad for the 2010 FIFA World Cup by Coach Lars Lagerback but did not make the final squad. He came in as a substitute during Nigeria's 0–0 draw with Saudi Arabia in a pre-World Cup friendly in Austria on May 25th 2010. He was also backup goalkeeper to Dele Aiyenugba in Nigeria's 2–1 loss to South Korea in an international friendly in August 2010. He currently plays for NPFL club, Kano Pillars.
Segun Oluwaniyi – 2010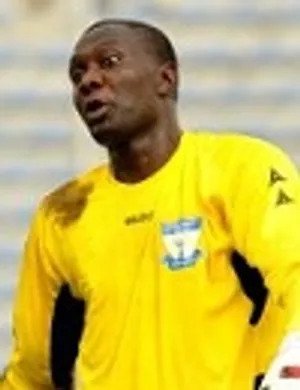 Oluwaniyi got just one cap for the Super Eagles which was when he debuted on March 3, 2010, as a starter in the 5–2 win over Congo DR. He is currently one of the goalkeepers with Shooting Stars F.C. of Nigeria.
Sunday Rotimi – 2001 – 2004
The goalkeeper earned five caps playing for Nigeria from 2001 to 2004, that is minus two "B" team games that were the last games Nigeria played at Lagos National Stadium. Rotimi's last two appearances for the national team were shutouts over Ireland and Jamaica in the Unity Cup. He is currently playing for Ethiopian club Mekelle 70 Enderta.
Greg Etafia – 2003 – 2004
Etafia made four appearances for the Super Eagles. Four years after retiring from playing football, the Auchi born goalie signed with Highlands Park F.C. on 17 July 2019 and he is presently still with the South African Premier Soccer League club.
Ike Shorunmu – 1992 – 2002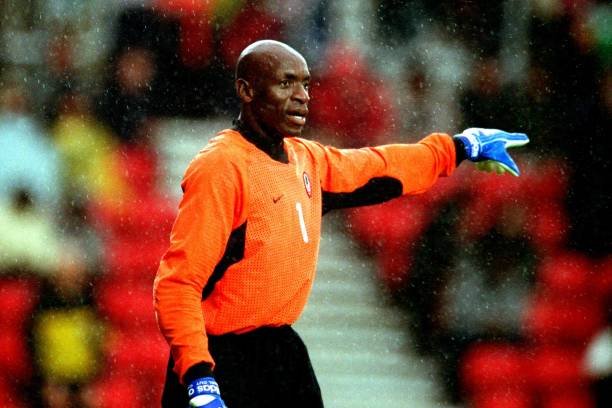 Super Eagles' best coach so far, Clemens Westerhof was the man who gave Shorunmu a chance in the team as far back as 1992. And in the 2002 FIFA World Cup, he maintained his spot as the first-choice goalkeeper of the national team. He currently serves as Nigeria's goalkeeper coach. He has held the same position for Enyimba F.C. and Heartland F.C.
Murphy Akanji – 1999 – 2002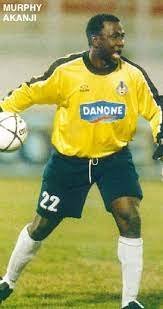 Akanji has two caps for the Nigeria senior team representing the Super Eagles at the 2000 and 2002 African Nations Cups. For two seasons straight, he won the Best Goalkeeper Award in the Maltese Premier League when he played for Sliema Wanderers.
Ndubuisi Emmanuel Egbo – 1999 – 2002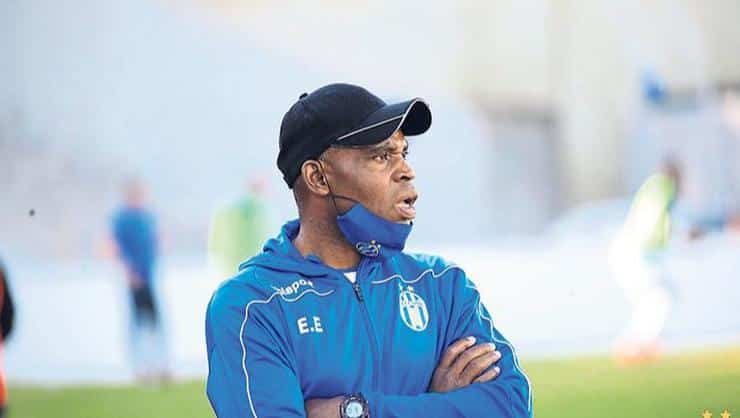 Egbo represented Nigeria in two tournaments of the African Cup of Nations (2000 and 2002) and in the process earned 12 caps. He later became a coach and is the first-ever Nigerian coach to lead a European team to a league title after his team were crowned 2019/2020 Albanian League champions. That team also qualified for the Uefa Champions League.
Peterside Idah – 2000 – 2002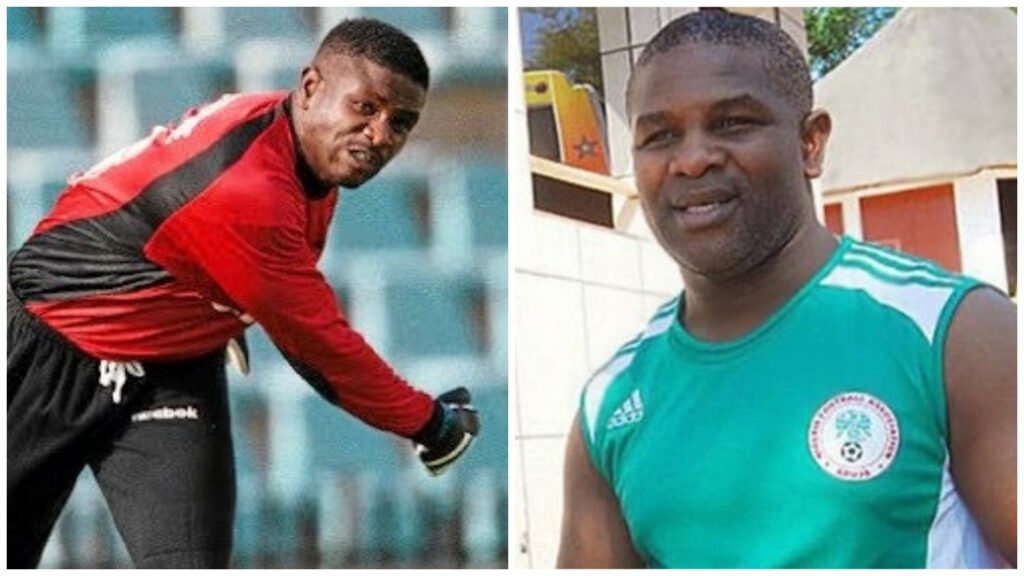 The former goalkeeper turned SuperSports football analyst played for big clubs both in South Africa and overseas before he retired from the game. People used to call him Mfundisi because before he did anything, he prayed. In 2002, Idah hung up his boots and became a Pastor at Christ Ambassadors Church based in Kempton Park, Johannesburg.
Abiodun Baruwa – 1997 – 1999
The Abuja born goalkeeper was selected for the 1998 FIFA World Cup. He was involved in age controversy when he played for the Nigeria under-23 team at the 1996 Summer Olympics. He was accused of being born on 7 February 1969 as against 16 November 1974 that he claimed.
William Okpara – 1996 – 1999
"Willy" played his first game for Nigeria in 1996 and was selected for the 1998 FIFA World Cup squad. He appeared three times for Nigeria in his career before retiring to become a goalkeeping coach for Orlando Pirates, a South African side he had spent more than a decade with during his playing days.
Dosun Joseph – 1996 –1997
Even though he was the only home-based player and the least experienced of the three goalkeepers in Nigeria's 1996 Olympic team, Dosu was the team's first-choice goalkeeper. After winning Gold in the 1996 Olympics, he played three international games for the Super Eagles. The November 1996 FIFA World Cup qualifiers against Burkina Faso, the friendly against Morocco in December 1996, and the FIFA World Cup qualifier against Kenya in January 1997. Dosu retired at the young age of 23 as a result of an automobile accident.
Peter Rufai – 1983 – 1998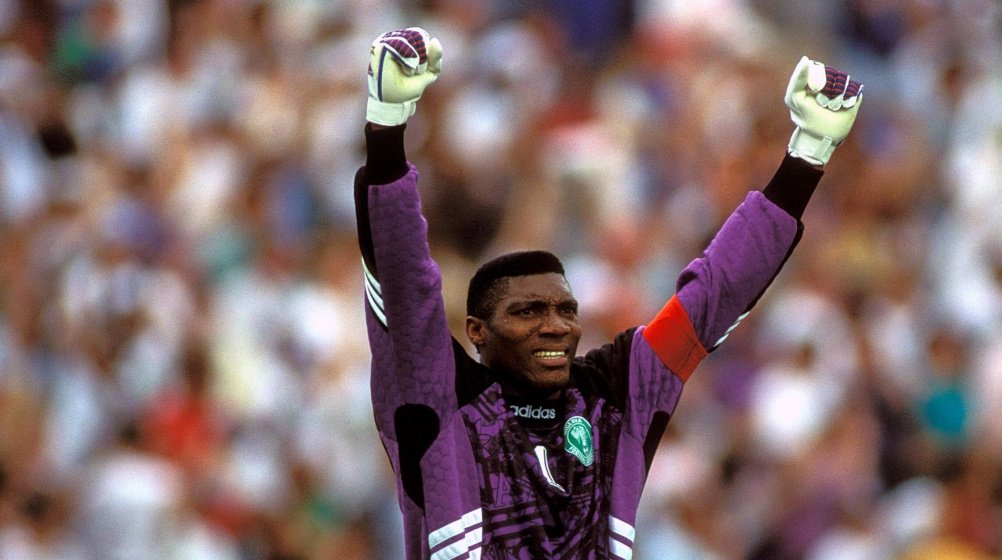 "Dodo Mayana" played for the Super Eagles in the 1994 and 1998 World Cups and several Africa Cup of Nations tournaments. As a result, he's earned as much as 65 caps for the country during which he acted as Nigeria's Super Eagles captain in most of those games. He was in the Super Eagles squad that won the 1994 AFCON in Tunisia.
Wilfred Agbonavbare – 1993 – 1995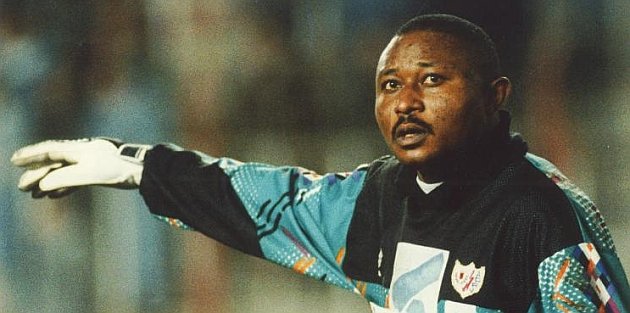 Agbonavbare was a backup goalkeeper to Rufai in the 1994 African Cup of Nations and FIFA World Cup. After his retirement, he suffered from cancer and succumbed to the disease at the age of 48. Agbonavbare died January 27th 2015 in Alcalá de Henares, Spain.
Alloy Agu – 1988 – 1995
He was the Super Eagles' number one choice in the early nineties and had 28 international appearances for Nigeria. Agu was in the Nigeria squad at the 1990 African Nations Cup and the 1994 FIFA World Cup. He retired at the age of 30 and served as the goalkeeper coach for Enyimba.
Patrick Okala – 1983 – 1984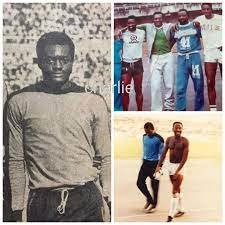 Like Wole Odegbami, Patrick Okala never matched the height his senior brother, Emmanuel attained. History is replete with people who tried to follow in the footsteps of their fathers or brothers but fell just short because those siblings and fathers set the bar way too high. It was just a bridge too far to cross. And so they kind of lived in the shadows of their older siblings. Patrick got the opportunity that eluded his elder brother. At the Cote D'Ivoire '84 Nations Cup, he kept the goal for Nigeria in a grand finale Captained by young Keshi. Though Patrick died young he won several laurels including the AFCON silver medal at Ivory Coast in 1984.
Peter Fregene – 1966 – 1983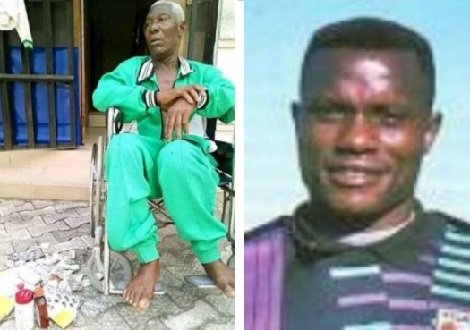 The Sapele born goalkeeper was Nigeria's first-choice goalkeeper from 1968 to 1971. Fregene got recalled to man the post again for the Green Eagles in the 1982 African Cup of Nations finals. The 'Flying Cat' as he was known during his playing career, was bed-ridden for eight years until former Lagos State Governor, Babatunde Raji Fashola came to his rescue.
Moses Effiong – 1981 – 1982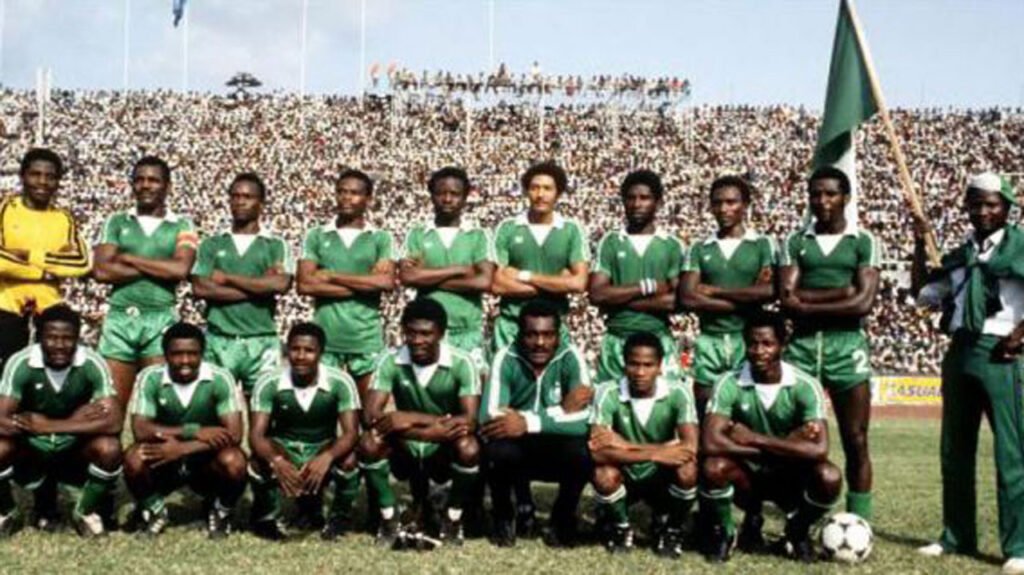 The 1980 Nations Cup heroes was Nigeria's third-choice goalie at the tournament behind Ogedegbe and Okala and didn't get to see action throughout the competition. He however had a relatively successful career at the club level with NNB, winning the 1983 and 1984 WAFU Cups, the league title in 1985 and the Champion of Champions Cup. After he retired, he went into coaching and managed Michelin FC of Port Harcourt (2003-2005), Bussdor (2009) and Akpabio Stars in 2012.
Best Ogedegbe – 1979 – 1982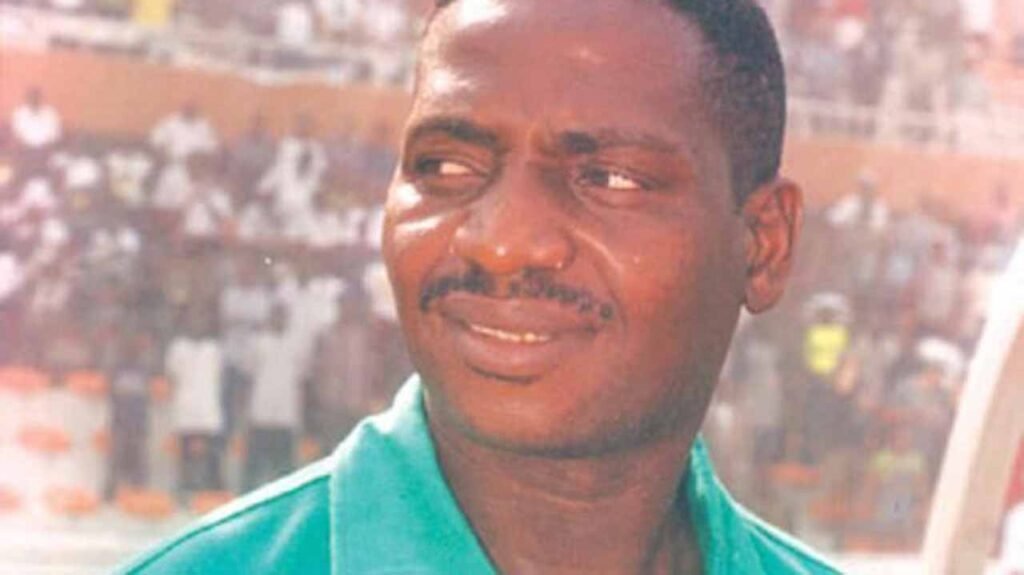 Ogedegbe was the goal stopper for the then Green Eagles when they won Nigeria's first AFCON title in 1980. He also played for Nigeria at the 1980 Summer Olympics in Moscow. He underwent eye surgery at the University College Hospital in Ibadan but lapsed into a coma following complications from the operation and died at the age of 55 on 28 September 2009.
Emmanuel Okala – 1972 – 1982
The 1978 "Footballer of the Year" won the African Cup of Nations tournament with Nigeria in 1980. He earned 59 caps for Nigeria, most of which were friendly games. Friendlies 14; World Cup Qualifier 9; African Nations Cup 5; African Cup Qualifier 7; African Games 12; Olympic Games Qualifier 2; Other Tournaments 10.
Rufus Ejele – 1977 – 1978
He is one of the many great Nigerian footballers that made a name mostly playing in the domestic league and appeared only once in the colours of the Green Eagles. He was in the 1978 African Cup of Nations squad for Nigeria.
Joseph Eriko – 1975 – 1976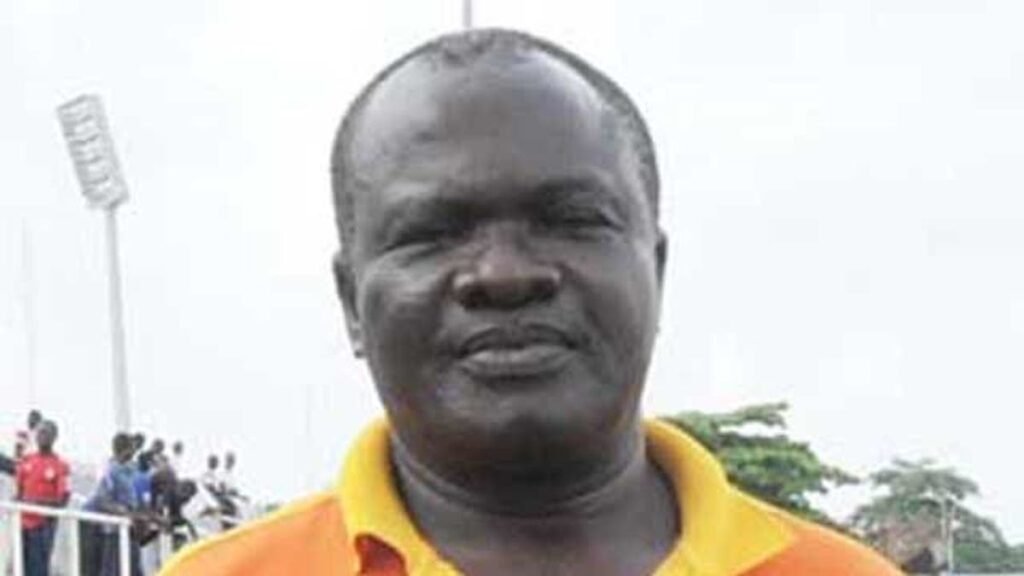 Born Joseph Bassey Eric in the Odukpani local government area in Cross River State, 'Jogo Bonito', as he was fondly referred to, made his debut for the Green Eagles in an Africa Cup of Nations qualifying match against Zambia in Lagos in July 1973. Nigeria won that match 3-2. He kept goal in all of Nigeria's six matches at the 1976 Africa Cup of Nations in Ethiopia, where the Eagles finished third. That was the first time Nigeria would win a medal at the AFCON. Erico died on January 22nd at the age of 72.
Eyo Essien – 1972 – 1973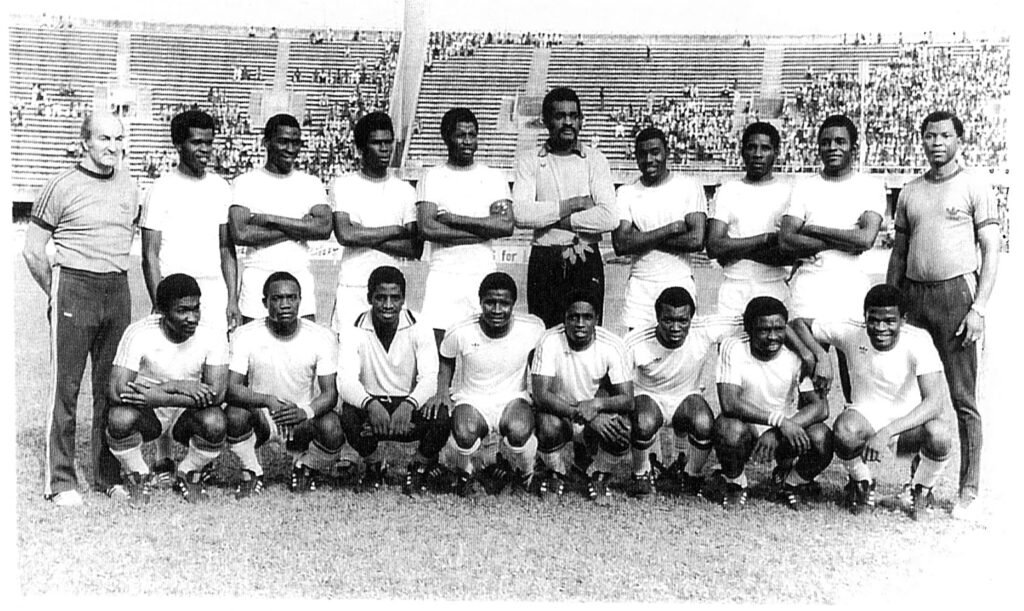 Another player on my Nigerian past and current goalkeepers list is Eyo Essien who also contributed his quota to the national team.
Inua Lawal Rigogo – 1960 – 1969
Rigogo is perhaps the greatest goalkeeper Nigeria ever had considering the way he used to fly from pole to pole and made some incredible somersaults. Ghana's President Kwame Nkrumah once described him as a 'Flying Cat.' As a national team goalkeeper, he conceded just 4 goals over his 8 years career between 1960– 1969. That is still the least amount of goals any Nigerian goalkeeper has.
Lateef Gomez – 1962 – 1963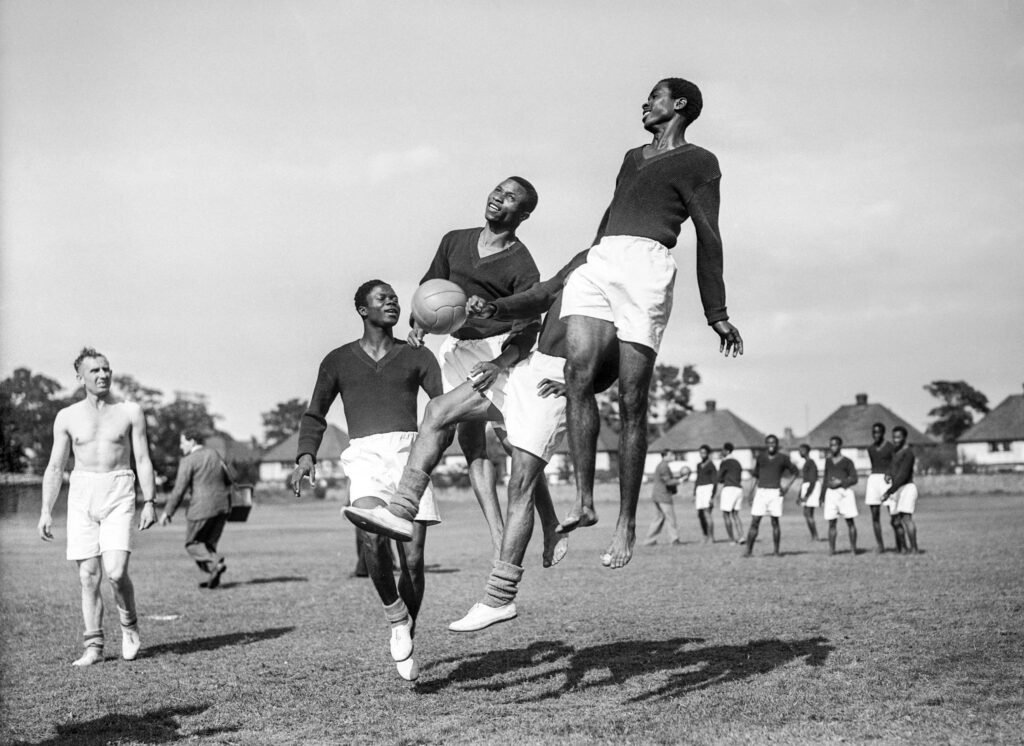 One other footballer worthy of mention on my Nigerian past and current goalkeepers list is Lateef Gomez who did his best to serve the Nigeria senior team in his days.
Emmanuel Omiunu – 1962 – 1963
Emmanuel Omiunu is one of the several good goalkeepers who have made important saves between the sticks for Nigeria.
Patrick Olu Onagoruwa – 1960 – 1961
Onagoruwa also made it to my Nigerian past and current goalkeepers list having given his all to the national team of the Nigeria men's football.
Clement Andre – 1960 – 1961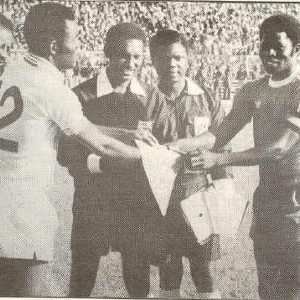 Nigerian past and current goalkeepers list will not be complete if I don't add Clement Andre who stood between the sticks for Nigeria during his playing days against all odds.
Sam Ibiam – 1949–1958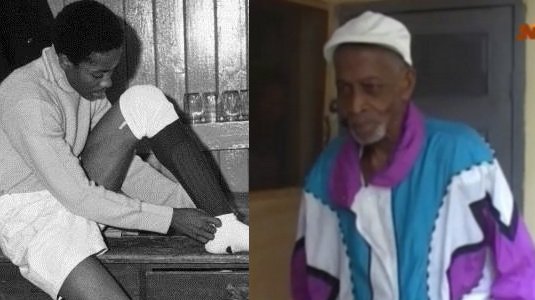 The Black Magnet, as he was popularly called during his days, was a Nigerian goalkeeper for the pioneer Nigerian national football team then known as the "1949 UK Tourists". He conceded just five goals in his nine years of representing Nigeria till he retired from international football in 1958. Sam died at the age of 90 in his residence in Ebonyi on December 2nd, 2015.
Wrap Up
I have come to the end of my list of Nigerian past and current goalkeepers. If you think I missed any goalie whose name is supposed to be on this list kindly indicate in the comment box for inclusion. But before I go, from the above list of former Nigerian goalkeepers, and the current ones, who is your best goalkeeper in Nigeria?