NPFL 2021-22: Shooting Stars grinds out draw on NPFL's return to Ibadan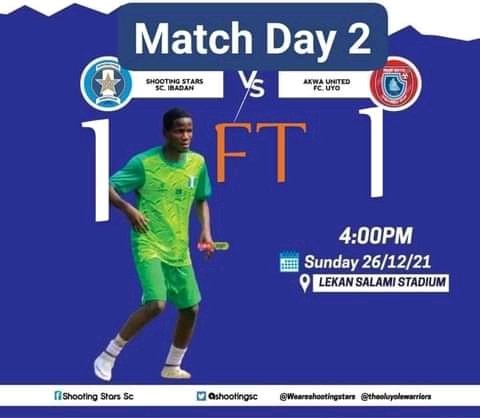 Shooting Stars will have Ayo Adejubu to thank for his heroics in their 1-all draw against the defending champions of the NPFL, Akwa United at the newly refurbished Lekan Salami Stadium, Adamasingba, Ibadan.
It was a terrifying environment at the stadium as fans trooped into the Adamasingba stadium to cheer Oluyole Warriors to victory for the first time in close to five years.
Utibe Archibong had given the visitors the lead after 29th minutes and would hold on to the lead before the Edith Agoye's side grabbed a late equalizer.
While the visitors had the best of the game in the first half, the homeside came from the break with a renewed energy albeit still found their chances getting repelled by the Akwa United's defense.
Having wasted some chances in the early minutes of the second half, Shooting Stars later got their rythm upfront as they beefed up their cutting edge with the likes of Ayo Adebuju; the goal scorer, Wasiu Alalade, Malomo Taofeek.
Oluyole Warriors were the most burdened side of the game – being their first competitive game on the newly remodeled stadium and their first NPFL game on the turf since 2017.
However,the result of the game can be seen from the prism of a 'litmus test' for Shooting as a newly promoted side, who played a goalless draw with Gombe United last week, while it also further placed the Promise Keepers from Uyo on a high side, and shows their intent to defend their first ever title.
Also, the result of the game is only the draw that would come out of the ten times the two teams have so far met – Akwa United won 5 games all in their home ground and Shooting Stars also won 4 of the games in their home ground.
Shooting Stars will be travel to Makurki next week to face Lobi Stars in their next game while Akwa United welcomes Gombe United to the nest of Champions in Uyo.