EYFC: Organizers releases the draw for 2022 edition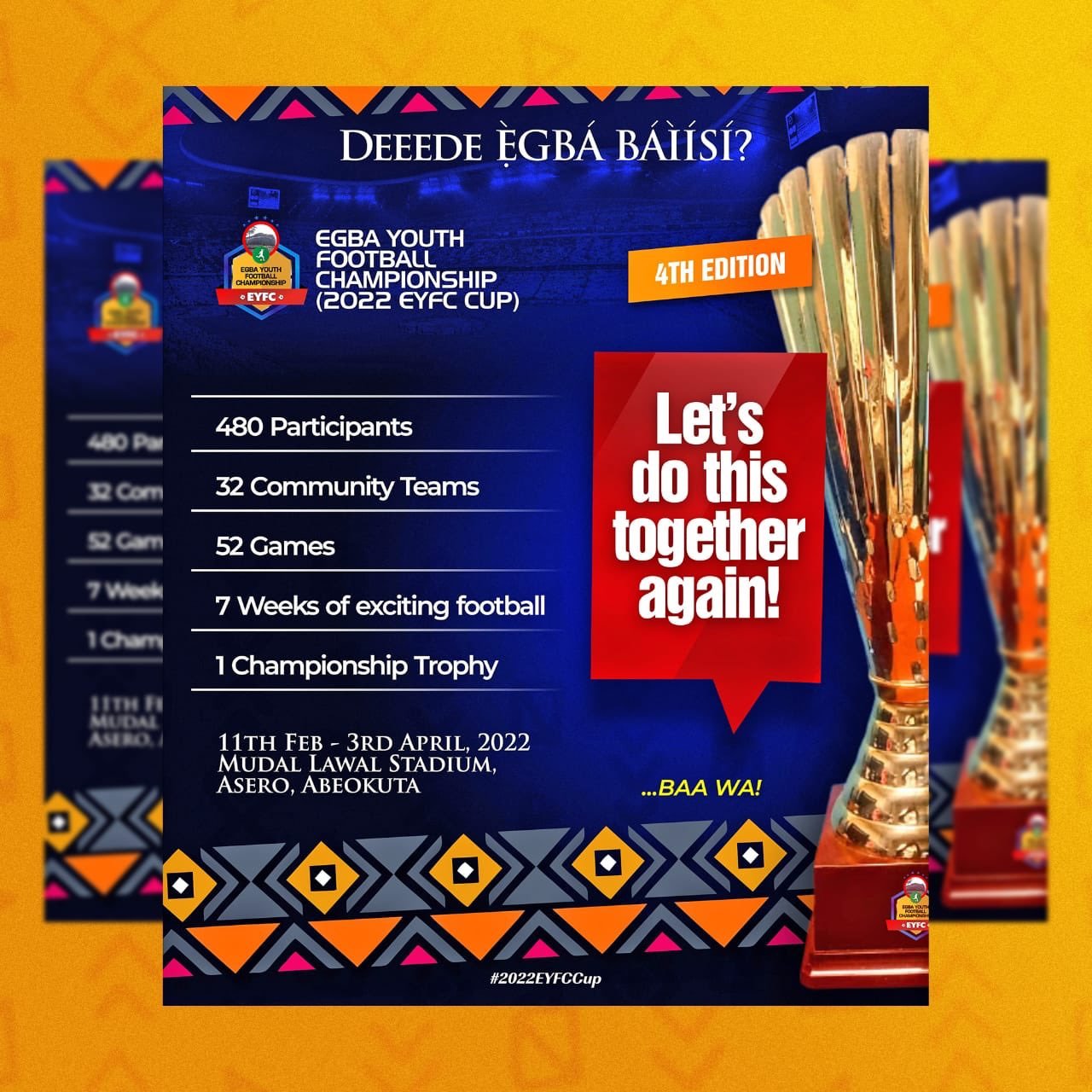 The stage is set for the fourth edition of the Egba Youth Football Championship (EYFC) as organizers of the grassroot football competition on Thursday, released the draw for the 2022 edition.
A total of twenty four teams were paired into six groups, which fourteen of them are debutants, seven teams are regulars who have not missed out from participating since the competition began in 2019, while the three remaining teams are making it to the competition for the second time.
The top two teams from Groups A to F will automatically proceed to the second round, alongside the best four third-placed teams.
The 2022 edition of EYFC will have a new winner given that two time winners of the competition, Surveyors FC will not be participating.
The draw which took place in Abeokuta the Ogun State capital, was done alongside the 2021 Sports Awards, where a host of sports journalists, sportscasters and other eminent personalities were recognized and given awards for their immense contributions and supports to the sporting sector, particularly the EYFC and other grassroot sports competition in Ogun State in the past year.
The awardees in the media category includes Segun Folarin of FRCN, OGBC's Bayo Adegboyega, Splash FM's Abdul Baki Balogun, Daniel Ademiju Idowu of Sweet FM, Babajide Adewunmi and Hassan Abdulsalam.
The competition is billed to kick-off on the the 11th of February till third of April 2022.
The Groups in Full:
GROUP A
ONIGBEDU FC
AR UNITED FC
DEBASH FC
APOSTLE TACN FC
GROUP B
PATRIOTS FC
TRACE FC
ONWARD FC
IAS UNIQUE HOMES FC
GROUP C
ALAGBEDE FC
PRUDENCE FC
MIGHTY STARS FC
APETE FC
GROUP D
CHUMMIE FC
OGUN OSHUN GREEN PLANTERS FC
AMSAS FC
SAMBA BOYS FC
GROUP E
WAY FORWARD FC
AJAX SC
ZION BOYS FC
ULTIMATE FC
GROUP F
TRIPLE A LIONS FC
TOYIN AMUZU FC
OGUN BAPTIST ACADEMY FC
AJEGUNLE FC