Bet9ja Cut 1: Rules, Meaning, How to play it
What is Bet9ja Cut 1 all about? What is the meaning of Cut 1 in Bet9ja? How can I cut one in Bet9ja? Which bet site pay cut one? Does Bet9ja pay if one game cuts? Does Bet9ja pay cut one? How do you play cut one on Bet9ja?
Bet9ja Cut One Meaning
Except you are not tired of losing all your potential winnings to betting sites just because one of your games let you down, then you don't need to keep reading this post. You can continue dashing your hard-earned Naira to Bet9ja.
See Also: Cash Out In Bet9ja: The Rules & How To Calculate
As for those of us who can no longer bear to lose our entire ticket because one game's prediction didn't go our way, then, take advantage of Bet9ja Cut One offer.
With Bet9ja Cut one, you can place your accumulator bets with confidence. Even if one of your selections fails, you can still get paid depending on the game that fails you.
How To Use Cut 1 In Bet9ja
One thing that most bettors hate most about sports betting is losing your accumulator because of one game.
Bet9ja knows this and has gone ahead to design the Cut 1 feature. In case one of your selections lets you down, this offer helps to prevent an entire loss of your initial bet, so that even if one game cuts, Betnaija pays.
How Does Cut 1 Work On Bet9ja
To enjoy this feature, you need to pick 5 or more selections in your multi bet slip. In addition, you must select the "Cut 1" option in your slip. After which your odds will be recalculated to help you win even if you lose your selections.
Please note that only bet slips that lose by one selection qualify for this offer.
Also, you must be a registered Bet9ja user to benefit from this option. This offer is only available in Nigeria at the moment.
How To Play Cut 1 In Bet9ja
If you don't want to watch the video you can follow the simple steps below:
Create your multiple as normal – Remember it will need to have at least five events to qualify for Cut 1!
Select the 'Cut 1' option on your bet slip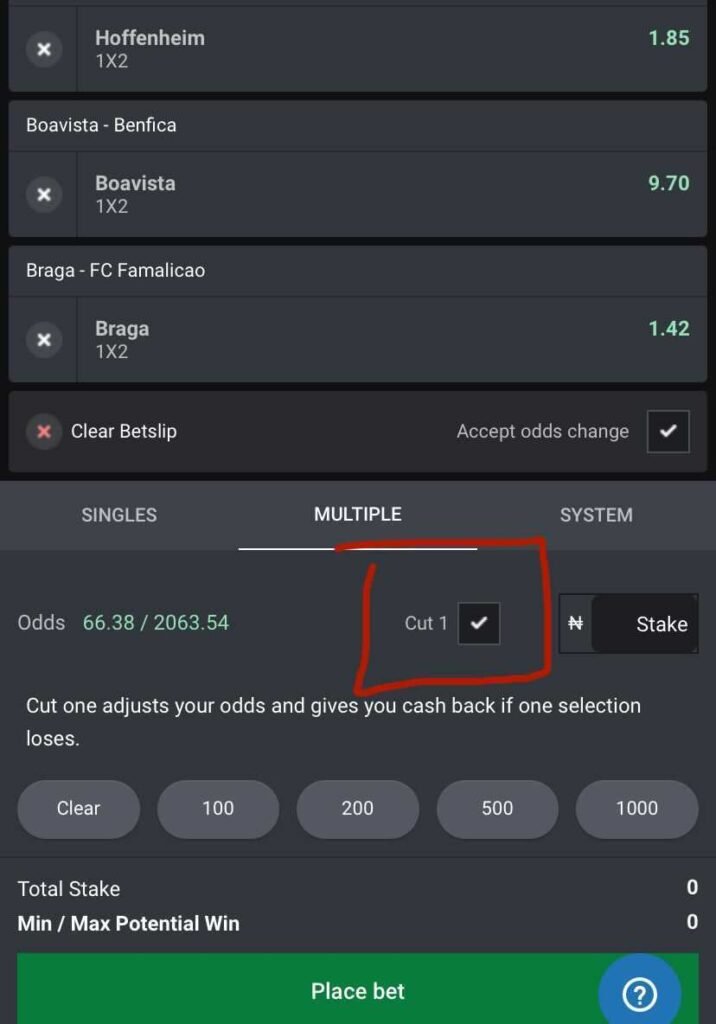 Your odds will be recalculated, allowing you to still win even if one game cuts your ticket
The payout will depend on which game cuts, with your odds, recalculated accordingly
Term and Conditions
Here is a summary of the Bet9ja Cut 1 rules:
A valid bet9ja account is required.
By ticking the 'Cut 1' box you agree to accept the lower maximum payout displayed on your bet slip
The 'Cut 1' feature is only available on Bet9ja New Mobile.
The payout on a 'Cut 1' accumulator will be recalculated depending on the odds of the winning selections in the multiple
The 'Cut 1' feature will only be available on multiples of 5 legs or more
The 'Cut 1' feature is available on any sports multiple
The 'Cut 1' feature does not affect the Bet9ja up to 170% Multiple Boost
Wrap Up
The Bet9ja Cut one offer is a strategic way to encourage accumulator betting and reward those who come close to winning their multi-bet slip. With this offer, you do not get to lose your entire winnings even if one game cuts your ticket. The rules, terms and conditions of this offer are straightforward and easy to fulfil. Even the requirements are easy to meet and you are assured of winning something tangible from your initial stake. And by the way, there are no such things as cut 2, cut 3 or any other cut number on Bet9ja – at least not now!