We made sure that no cash was involved in the Stanbic N2.3bn deal – Pinnick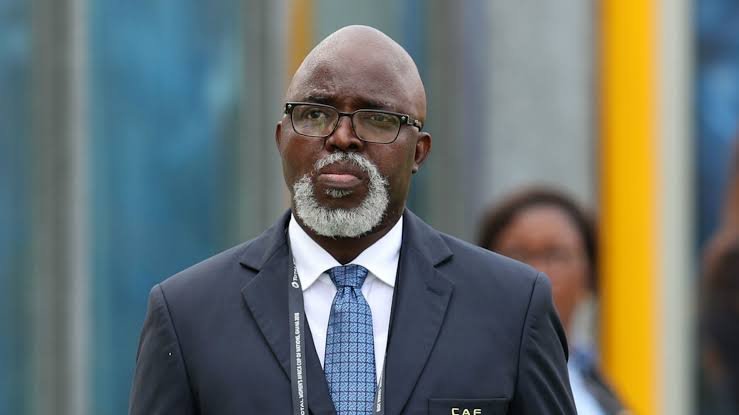 President of the Nigeria Football Federation (NFF), Amaju Pinnick, has said that there was a "delibrate" effort by the federation to ensure that no cash will go into the Federation's account following the partnership deal with Stanbic IBTC.
Recall that the NFF announced on Tuesday that it had signed an MOU with Stanbic IBTC, a member of the Standard Bank Group, to provide N2.3bn insurance cover for the thirty-five Super Eagles players.
Under the agreed terms, it was said that Stanbic IBTC would provide group life insurance for the entire thirty-five players in the national with a total sum assured of N1.75bn and total personal accident insurance for all the thirty-five players with a total of N583m yearly for the next three years.
Pinnick while speaking at a media parley in Lagos on Wednesday, revealed that the federation had no stake in the deal and stressed that every player is insured from the moment the contract was signed till they will finish playing for the Super Eagles.
"With the deal we signed with Stanbic, there is no cash coming into the federation and this was deliberate but it is player-based," Pinnick said.
"Every player is insured from the moment that contract was signed till they finished playing for the Super Eagles and the total is N2.3bn."
"Every match that we play we insure our team between N25m to N30m comprehensive, but now all those are out."
"We are going to have excesses from our budget because if we are going to play 10 matches, it amounts to N300m saved from this Stanbic deal because they are coming as sponsors for insurance and finance because their bank is financing insurance, so it is a two-point thing which goes to about N2.3bn."
Pinnick however added that "There is also an emphasis on gender sensitivity, so, that if there is an international game, we will bring ten female journalists to sponsor them."
"We tried to make cases for the males but they gave their reasons, but said they will look into that."
The MoU between the NFF and Stanbic IBTC would take effect when the AFCON begins in Cameroon on January 9.