Ronaldo weeps in Portugal's shocking loss to Serbia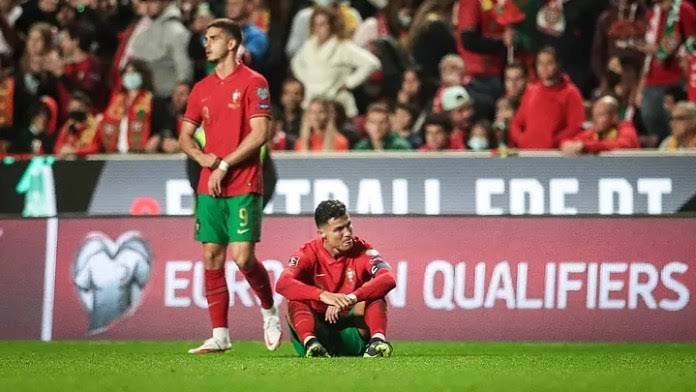 Manchester United star, Cristiano Ronaldo was brought to tears following Portugal's 1-2 loss to Serbia in Lisbon on Sunday, with the Serbs clinching the automatic world cup slot at the expense of Portugal.
Portugal went into the encounter needing just one point to seal qualification for next year's Mundial in Qatar and found the lead as early the first two minutes of the match.
Serbia refused to give in to the early scare and drew level when Dusan Tadic cancelled Renato Sanches' opener.
The scoreline remained 1-1 till the last quarter of the match with Serbia applying the pressure. They however got their winning goal via Mitrovic who rose highest at the back post to power another Tadic behind Rui Patricio at the death.
The goal was all the visitors needed to overtake Portugal's 17 points on the log and sent the Serbian bench and fans into an aura of frenzy.
The cameras then panned to the Portugal captain, who was throwing his arms around in anger.
Portugal however have a chance at qualification but in the play offs, alongside Sweden, North Macedonia, Scotland et al in March next year.