Rangnick bemoans United's poor finishing, charges Ronaldo to end goal drought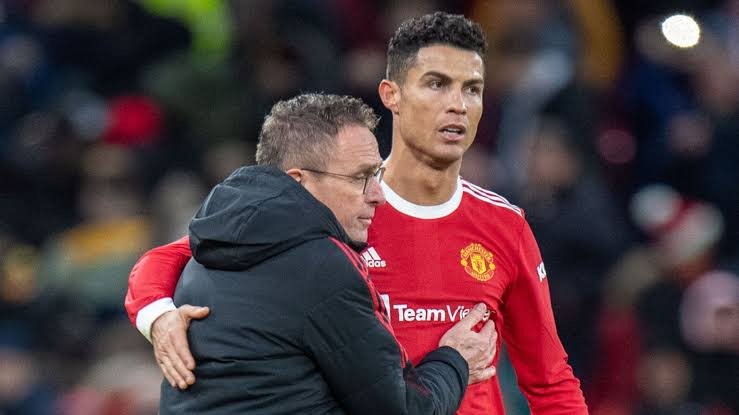 Manchester United interim boss, Ralf Rangnick, has admitted the need for the Red Devils to intensify their attacking intent and urged the club's top scorer this season, Cristiano Ronaldo, to end his goal drought.
United, having played a 1-1 draw at Burnley last Tuesday, struggled to break Southampton again on Saturday (yesterday) at Old Trafford as they record another 1-1 draw despite going ahead first.
And despite the presence of Ronaldo in their attack, United have scored more than once in just three of their nine league matches under Rangnick.
Ronaldo has gone five games without a goal in all competitions and he's currently on the verge of hitting his worst goalscoring record in sixteen years.
The 37-year-old, United's top scorer this season with 14 goals, last went five games without a goal in club football at Real Madrid in 2010.
Rangnick, after yesterday's draw with the Saints, admitted that Ronaldo's goals are essential to United's hopes of a successful end to the season, but he wants the rest of the team to man up and share some of the burden as well.
"It's not only about Cristiano Ronaldo. That he should score more goals is obvious," Rangnick told reporters ahead of Saturday's Premier League game against Southampton."
"I think we are creating enough chances and enough opportunities in the last couple of games but we just didn't score enough goals."
"But this is not only an issue with Cristiano, it's also an issue with all the other players, especially with the offensive players, that we do not score enough goals if you bear in mind how many chances we create."
"This is also something that needs to get better in the next couple of weeks."
United would face a tougher test when they host Brighton and Hoves Albion on Tuesday as their chance of making the top four looks bleaker by the day.