Pinnick Reveals Why Rohr Was Sacked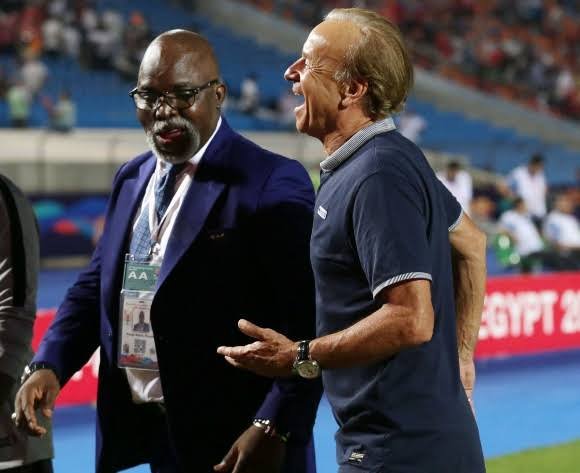 The Nigeria Football Federation (NFF) head, Amaju Pinnick, has shed light on the reasons why the German tactician was relieved of his job.
Pinnick says Rohr's inability to control the players under his watch are some of the reasons why the Nigeria Football Federation (NFF) decided to terminate his contract.
Speaking to the media yesterday, Pinnick disclosed that the Federation did not want to allow the situation to deteriorate before wielding the stick, also added that the Federation consulted widely including looking into recommendations of some of its committees before deciding to relieve Rohr of his job.
He added that the NFF was alarmed by the state of the team in the last two games, which prompted it to take the step.
Pinnick reaveled saying: "We did everything that we could, but one major factor was that discipline in the team is lost practically. In the dressing room, discipline in the team was at its lowest ebb once you remove discipline, that foundation in the team has cracked."
"Some of the players believe that they are indispensable and therefore, behave anyhow they feel like. They talk back at officials and break camp rules at will and the coach could not do anything about it. He lost the dressing room to some players and that is not acceptable."
While still in discussion with the media, Pinnick admitted that the Federation still owed the German tactician some of his emoluments, adding, however, that things were been sorted out.
"We are only owing about two matches of all the matches they played in both AFCON qualifiers and World Cup qualifiers."
"For Rohr, I know we paid him for about five months. We were owing him for a couple of months, then we cleared about five months."
The NFF President thanked Rohr for his service to Nigeria, adding the German set the record as the longest serving coach of the Super Eagles and concluded that his sacking wasn't an individual decision but one taken by the entire executive committee.