AFCON 2021: Eguavoen laments Super Eagles exit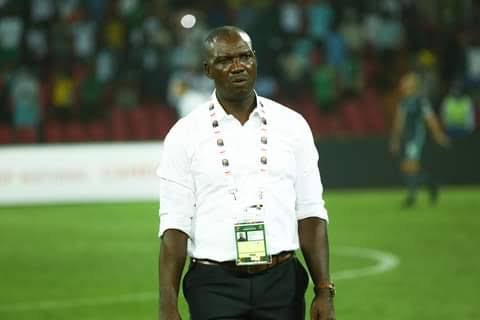 Super Eagles interim boss, Augustine Eguavoen, has lamented the team's early exit from the AFCON, admits it was a bitter pill to swallow.
Eguavoen noted this in a video posted on the Nigeria Football Federation TV on Monday.
The former Super Eagles defender while speaking with the players before their departure from Cameroon stated that the elimination was a sad one, but advised the players to put the negative reactions from the fans behind them and focus on the challenges ahead, which is the FIFA World Cup qualifiers.
"It is a bitter pill to swallow no doubt about it but human beings propose and God dispossess," he said in a video posted on NFF TV on Monday afternoon.
"We were striving for something but we couldn't get it. It's one of those in life. It's very painful to exit the tournament in the Round of 16 with the calibre of players that we have."
"So a lot was expected and we couldn't meet the expectations. Not their expectations because first of all you first which is important, we couldn't meet our expectations which is okay, it happens football."
"But I want you to continue to believe in yourselves because you still have a whole lot of job to do for yourselves and the nation. The World Cup qualifier is close, the quicker we take this off our mind the better for everybody."
"So whenever any of us is called upon please do not hesitate. There will be some negative words from social media but it is normal it is the way they feel, the spur of the moment it's emotions one game can change the whole situation. l know it's difficult to take but please let us try." He concluded.
The Super Eagles emerged as the tournament's favorite following a scintillating start to the biennial football tournament billed to round of in Cameroon on Sunday.
The three-time African Champions qualified for the Round of 16 with a 100 percent record from the Group that had record champions Egypt, Sudan, and debutant Guinea-Bissau.
However, the Eagles' hope of lifting the trophy for the fourth time was shattered as they fell to a 1-nil defeat in the hands of a COVID-19 ravaged Tunisian side.
Next for the Super Eagles is the final phase of the Qatar 2022 World Cup against the Black Stars of Ghana in March.