Special observations as Nigeria edges Uganda in CAF U-20 Nations Cup Quarter-final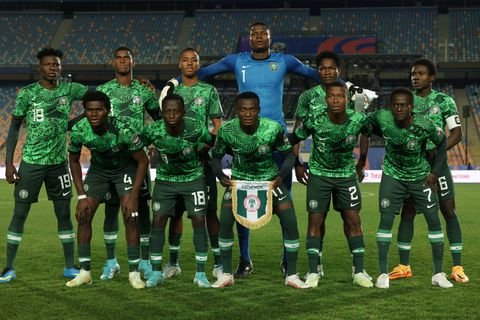 Nigeria defeated the Junior Cranes of Uganda in the quarter-finals of the CAF U-20 Cup of Nations as both sides took to the pitch for this encounter.
It was Nigeria that had the last laugh as they secure a narrow 0-1 win. Going into the contest, both sides were in a confident mood following decent performances from their group outings.
But it's Uganda that goes home in Nigeria's stead as the case may be. While we use this chance to evaluate the special thing we've observed from the 90 minutes contest.
Nigeria sets things right
Both sides have not met at this level before and It was nice to see who comes out on top in this fixture.
Though the Ugandan side was good, but somehow Nigeria's pedigree at this level offered them a bit of an edge going into the contest.
And they would not disappoint as they secured a place for themselves in the last four alongside fellow West African side Senegal, following their 0-1 win over the Cranes.
They've proven that they're a class above their counterpart Uganda though the scoreline is not really flattering by any means.
World Cup dream achieved
The flying Eagles know that one of the main aims of taking part in this CAF U-20 Nations Cup is to use it as a means to qualify for the U-20 World Cup slated later in the year.
And with Nigerian sides missing out on several competitions in recent times, an U-20 World Cup ticket would be a welcome development for the entire Country.
The team know that all they need to do is to beat Uganda in order to qualify for Indonesia 2023 U-20 World Cup.
And with the win and the U-20 World Cup ticket secured, Nigerian fans would be pleased with the feat, especially with the fact that the Senior side known as the Super Eagles lost the Qatar 2022 World Cup ticket to West African rivals Ghana.
The flying Eagles were wasteful
The Ladan Bosso-led flying Eagles of Nigeria might have secured the World Cup ticket with the win against the Cranes of Uganda.
But the teams' attack fluffed their lines in the final third of the pitch. They only managed to win thanks to an own goal from Ibrahim Juma who put into his own net at the half-hour mark.
There is a need for improvement on this stance if the team are to reap the dividend of their attacking play.
Especially as a tough side like Senegal who beat them in the group opener is already in the semi-finals having eliminated Benin Republic 1-0 in the first quarter-final fixture.