NPFL 2022 Week 11: Referees Told To Insist on Fair, Firm Officiating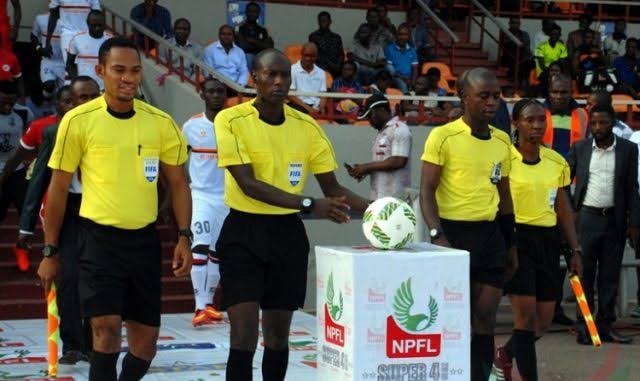 In view of the need to record excellent performances at match venues in the ongoing NPFL, Premier League referees have been asked to stick on fair and firm officiating to achieve this goal.
President of the Nigerian Referees Association, NRA, Otunba Tade Azeez gave this charge while appraising reports so far.
He asked the referees to shun acts not in conformity with the Laws of the Game and competition rules before, during and after the hostilities.
The latest FIFA referee in town and outstanding whistle handler, Abdusalam Abubakar of Zamfara council will have the opportunity to be on parade for the first with the prestigious international white badge in Ijebu Ode, Ogun State, the adopted home of Sunshine Stars of Akure against Enyimba as Musa Isa and a woman FIFA referee, Mfom Akpan will be on the lines, while in Jos, another FIFA referee, Grema Mohammed of Borno returns to action in the Plateau vs Rivers Utd clash.
In Ilorin, one of the very best products Imo State Referees Council is exporting to the national scene from the NNL, Justin Egwom, a graduate of Imo State University, Owerri, will have his baptism of fire in the elite referees class as he takes charge of the North Central derby; Kwara United vs Lobi. He will be assisted by Awosakin Iluyonade and Kazeem Dogari of Ondo and Yobe respectively.
Two women FIFA referees; Yemisi Akintoye and Fumi Alaba will also be in charge of separate games at Owerri and Uyo respectively.
2021/2022 MATCH OFFICIALS APPOINTMENT MATCHDAY 11
101
SUNSHINE STARS VS ENYIMBA INT
BENJAMIN NEJI CR
KAZ ABDULSALAM ZM
MUSA ISA NG
MFON FRIDAY AK
SANI BABAYO GM
GODWIN AMUCHIE O CR
IJEBU ODE
06/02/22
102
NIGER TORNADEOS VS KATSINA UTD
SIR CHARLES A MWOKOCHA AB
ADENIYI ADEWALE OY
OGAR LINUS CR
MAJIDADI IBRAHIM GM
ANIEKWE ARINZE IM
ANAS BAMUSA GM
ABUJA
06/02/22
103
KWARA UTD VS LOBI
ABBA MOHAMMED BA
EGWUOM JUSTINS IM
AWO ILUYOMADE OD
KAZEEM DOGARI YB
MADUGU ALIYU KD
INNOCENT MICHAEL BO
ILORIN
06/02/22
104
MFM FC VS AKWA UTD
TEMIGBE ROLAND ED
KINGSLY UDEH AN
OJO MOSES KD
PANMUN EPHRAM PL
FAISAL INUWA BA
NWABUEZE CHENDU AB
LAGOS
06/02/22
105
HEARTLAND FC VS GOMBE UTD
09/02/22
106
REMO STARS VS SHOOTING STARS
ROBERT AKPENKUM FCT
MADA ABDULMALIK FCT
IBRAHIM MAMMAN O KG
YUSUF IBRAHIM KN
IBODOR OVIE DT
I S MAIYAKI KG
IKENNE
06/02/22.
107
DAKKADA VS PILLARS
LATUNDE GBENGA OS
FUNMILAYO ALABA OG
PETER OGWU BA
CHIA TERWASE BN
EZE EDWIN C EN
DELE OGUNGBEMI OG
UYO
05/02/22
108
PLATEAU UTD VS RIVERS UTD
DR SEGUN ODUKOYA OY
GREMA MOHD BO
ISMAIL ABUBAKAR TR
MARUFF AROMONA LG
ONWE SEBATINE EB
IBRAHIM MUSA BIU BO
JOS
06/02/22
109
WIKKI TOURIST VS RANGERS INT
GOTOM B. JOSHUA PL
ABU ABDULLAHI NG
IBRAHIM TIJJANI KT
OGUNSUA WALEOLA EK
IKPI WOMI SAMSON CR
JOHN LADAN PL
BAUCHI
06/02/22
110
ABIA WARRIORS VS NASARAWA UTD
SANI IBRAHIM TR
JELILI OGUNMUYIWA LG
OSUMAH AJIBOYE ED
BASHIR YAHAYA KN
YAKUBU MAHMUD BA
GBOYEGA AFOLABI EK
OKIGWE
05/02/22