Norrköping Will Only Sell Adegbenro For A Significant Fee – Stig Tornbjörnsen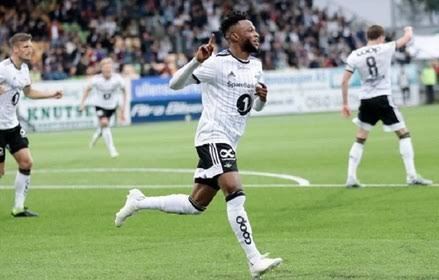 Norrköping's chief scout Stig Tornbjornsen has hinted that they would only sell their Nigeria born striker for a significant fee, should any club come for him in the transfer market.
Adegbenro was the best striker in Sweden last season after scoring 17 goals in 30 games, to be the fourth Nigerian to achieve such feat in over 20 years after Peter Ijeh, Rasak Omotoyossi, and John Owoeri.
Despite the fact that his team finished seventh place in the Swedish Allsvenskan last season, he was able to score a lot of goals for his side.
The Osogbo born forward has barely spent a year in Sweden after joining from Norwegian side Rosenberg, buy with his achievement with the Swedish side last season a move away from Whiteblue could be on the horizon.
However, Norrköping chief scout Tornbjornsen has revealed that it would take a lot of money for them to let go of their star man.
In an interview with football direct Tornbjornsen said: "If you have an all Swedish top scorer, there is always the risk that you could lose him."
"We want to get as much money out as possible if we were to seel him now."
Although there are no concrete offers for Adegbenro now, but he could be a good buy for suitors should he move elsewhere in the future.