Egyptian FA defends decision to hire bodyguards for Salah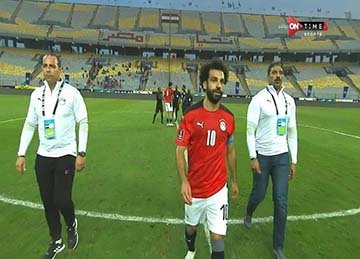 Egyptian Football Association (EFA) has backed its decision to hire private security guards for Mohamed Salah during their World Cup qualifier tie against Gabon.
In a statement from the football association, it was said that getting bodyguards for the Liverpool forward was necessary after some Angolan fans stormed the pitch to take photos with him in a previous match.
Egypt's previous qualifier away to Angola, which ended in a 2-2 draw, was interrupted three times after some fans invaded the pitch and approached Salah.
And during the game against Gabon, pictures of Salah being escorted by security guards surfaced on social media, with many wondering whether the player had requested extra protection.
In its statement, the EFA said that hiring private security was its own decision, and that it was not based on any requests by the players.
"The association wanted to ensure that no player is exposed to any kind of friction, especially in light of the spread of COVID-19," the statement read.
"The special interest that surrounded Salah was normal, especially after the game against Angola was stopped more than once because some fans wanted to take pictures with Salah, given his status as one of the world's most prominent football stars."