Calling Maradona a god is not an exaggeration – Victor Osimhen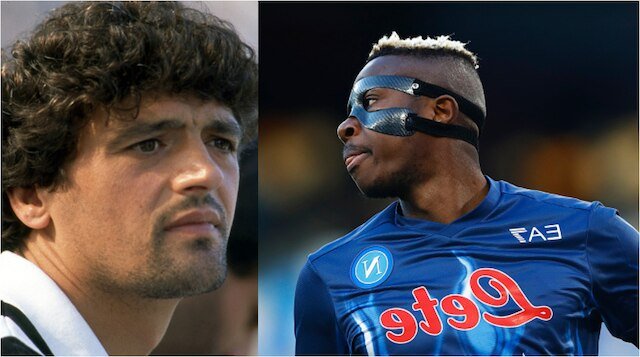 Napoli striker Victor Osimhen has thrown light on the influence the legendary Diego Maradona has on the Italian club.
Maradona, who passed away on November 25, 2020, led the Naples-based club through their golden era, helping the Partenopei win two Serie A titles, UEFA Cup, Coppa Italia, and Supercoppa Italiana.
The Argentina legend has been immortalized in different forms in the city of Naples with the most recent being the rechristening of Napoli's home venue to Stadio Diego Maradona.
When asked about the influence of Maradona on the club, the red-hot forward has now revealed how the late attacker inspires him, the fans, and the club at large.
Maradona won the 1985 Serie A's player of the year and managed to finish as Coppa Italia's top scorer in the 1987/88 season.
"I saw the Argentinian party in the streets and squares of Naples: impressive. I don't even know what Maradona was for Naples, but calling him a god is not an exaggeration," Osimhen told Napoli Magazine via GOAL.
The 23-year-old striker, who has bagged 9 goals in the Serie A this season, insists playing for Napoli is honouring Maradona.
"But it is also for this club, for this team. Playing for Napoli also means honouring his name: it's a pleasure, a source of pride."
Osimhen, who is hoping to win the Serie A this season, implies Maradona's spirit lives on.