Nigeria's former U17 head coach, Emmanuel Amuneke, has warned Victor Osimhen over his claims about being fit enough to play at the AFCON, insists the 22-year old could be declared fit only by Napoli's doctors.
Osimhen, who had earlier been ruled out of the AFCON billed to start on January 9 in Cameron next year, after he suffered multiple fractures in his face following a clash with Inter defender Milan Skriniar on during the Naples' loss to Inter Milan last month.
And despite initial reports that the striker would be out for 90 days after his surgery, Osimhen on Tuesday announced on Twitter that he would be available for the tournament, unless he's not deem fit to be picked by the national team handler.
"I will be available for AFCON unless I'm not among the players picked to represent Nigeria," Osimhen tweeted.
Amuneke, who managed Osimhen to a World Cup U17 glory in 2015 while reacting to Osimhen's recovery, said it would be good to have the 22-year-old at the AFCON but warned of his safety.
"If he is available, that is good news, but we have to get the confirmation from his club doctor,"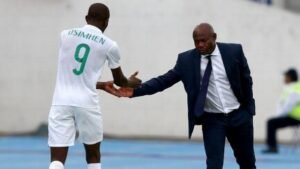 "A player cannot declare himself fit. But if he is fit that is good news for the team." Amuneke said.
Meanwhile, Roberto Ruggiero, the doctor who created Osimhen's protective mask, also cautioned the striker over his eagerness to return to action.
"Osimhen is fine, highly motivated. If it depended on him he would be on the pitch already today."
"In my experience, when could he come back? It takes technical time to heal, usually 90 days. You need to have time for ossification. Let's say we are half done now," Ruggiero told Radio Marte during the "Marte Sport Live" broadcast.
This article was updated 9 months ago